Greencore Group – Real-time production line insight
Greencore Group plc is a leading manufacturer of convenience foods, supplying a wide range of chilled, frozen and ambient foods to some of the most successful retail and food service customers in the UK required gaining real-time insight.
Objective
To improve the real-time insights into their production line processes, to allow them to act fast when daily targets are not being met, caused by unexpected events such as mechanical faults or staff shortages. This data would expose areas in the production line which are either failing, on target or above target.
They wanted this insight to be presented in a manageable way: the Single Page Application DeeperThanBlue developed allows them to cycle through a collection of intuitive screens, letting floor managers easily see which processes require attention. Deployed using the latest Docker-based container technology, the application is visible to staff via LCD screens and floor managers via a portable tablet view.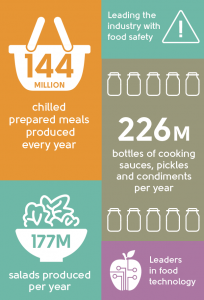 Challenge
Greencore didn't have a unified way of viewing their statistics reporting, apart from viewing what had happened that day retrospectively. The business needed to implement change in real time.
Outcome
Greencore was able to increase efficiency, and monitor and modify processes in real time.
We were able to use Greencore's current data sources to read information into our new platform. This meant targets and staff work time could be pre-calculated to complete an order of sandwiches, giving real time insight into production and day-to-day work progress to achieve success.
If you are interested in excelling in your market, becoming a digital disruptor or simply finding out more please get in touch.