Transforming ideas into reality
Upcoming Events below & Overview Video
Want to keep up with the latest developments and knowledge of technology?
Take a look at the events we have hosted or are hosting below! Our Business Analytics Forum, The Commerce Club and Software Testing Meetups… with more events booked in for in the future.
#BAF 4 REGISTER NOW | 19-03-20
We're pleased to announce our 4th #BAF event! It will focus around themes of KPI Management, Integrated Business Planning and Decision Optimisation.
The event gives the opportunity to learn and network with like-minded people; sharing best practices and taking learnings on various topics from one industry into another.
We will also be talking about how you can check you are getting value from your analytics solutions regardless of maturity.
#BAF 3 Summary | 04-07-19
Our third free Business Analytics Forum was held at a new bigger venue; The Mowbray, Sheffield S3 8EN.
Owned by the same company as our previous venue, we knew it was going to be just as good, if not better!
Unify Academy | Software Testing Courses 1. Introduction | 09-05-19
Join us for the first course with our new Unify Academy for Software Testing: 1. Introduction to Software Testing.
This is a free course running from 6-8pm in Manchester!
The Commerce Club (#TCC) Summary | 27-03-19
The free 'club' events will be a platform for commerce professionals to share knowledge and experience while also providing a chance to keep up with commerce technology advancements.
Business Analytics Forum 2 (#BAF) Summary | 22-03-19
After the success of our first forum, we were so excited to announce our second forum, which took place Friday 22nd March 2019!
Business Analytics Forum 1 (#BAF) Summary | 16-11-18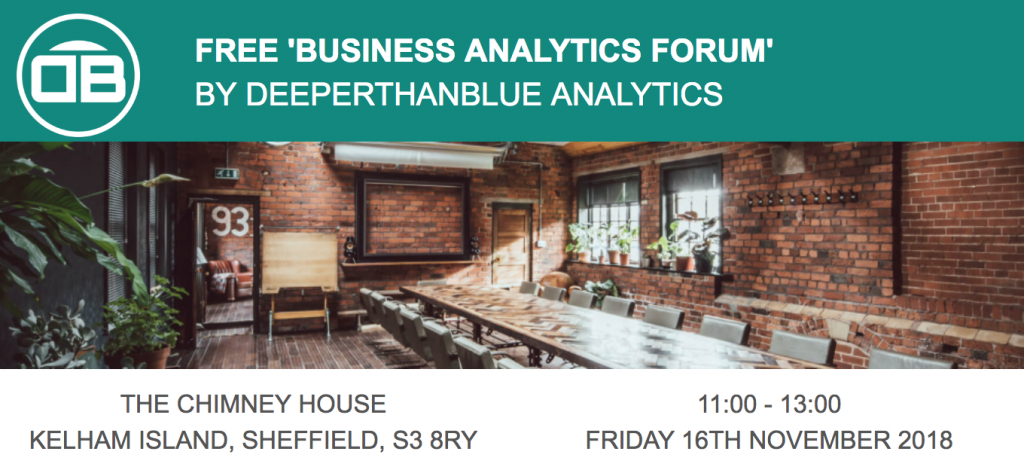 The Business Analytics Forum (#BAF) has been created for Analytics professionals to share knowledge and experience while also providing a chance to keep up with Analytics technologies advancements. It's a free to attend event, based in Sheffield.
If you are interested in excelling in your market, becoming a digital disruptor or simply finding out more please get in touch.
Get in touch