formerly known as Cognos TM1
IBM Planning Analytics
 What is Planning Analytics?

IBM Planning Analytics is a complete planning and analytics solution, it is built upon the proven TM1 in memory analytics technology and is a fast, easy to use and offers a flexible solution to Planning, Budgeting, Forecasting and Performance Management.

TM1 Planning is deployable in the cloud or on-premise and helps business leaders build connected processes, which with their speed, flexibility and ease of use; allows previously separate functions to work together irrespective of usual limitations. This powerful solution enables true linking of key business drivers to financial KPIs, with automation features to increase efficiency.

This is the latest addition to the IBM Cognos TM1 family of products and offers the following benefits:

Faster decisions – TM1 Planning enables your organisation to have a single source of truth, with built-in integration to a range of leading software from SAP, Oracle and other IBM Analytics tools. Shorter cycles enables your organisation to react to opportunities and threats as they happen, and build more confidence in your processes.
Efficient Collaboration – With the integrated workflow features, co-ordinating budgetary participation is easier and more efficient, creating the opportunity to align top down budgeting, with bottom up planning.
Agile Planning – What if scenarios allow users to explore the effects of multiple versions in their own sandbox environments. Fast re-planning allows all participants to keep up and to pull together to achieve your business goals.

Typical Solutions offered by TM1 Planning

Spreadsheet based budgeting and forecasting can be very manual, with multiple versions that need to be controlled, signed off and consolidated; before it can be reviewed as a whole. Planning Analytics also keeps control of these process flows and can even keep the existing spreadsheet interfaces that your users are familiar with while providing connectivity and flexibility to link operational planning to financial budgeting.

Driver based planning, made possible by the speed of calculation, allows the opportunity to reduce costs by understanding the effect different scenarios can have on the cost base through good business modelling practices, allowing resources to be managed more effectively and delivering better utilisation of assets including people, vehicles and facilities.

Integration with other IBM Analytics Products

IBM SPSS Modeller provides predictive analytics capabilities, which can be used to understand the underlying impact that key business drivers have on results and feed back into the model. Features such as time-series forecasting etc.

IBM Decision Optimisation provides the ability to find the optimum options to deliver the best results while also considering constraints, e.g. capacity constraints, staffing rota's or product mixes.

IBM Cognos Analytics provides powerful self-service business intelligence.

Product Features

IBM Planning Analytics Workspace (PAW) – customisable dashboards, visualisations and reports
Analytics Web – the ability to control the environment from within a browser
Planning Analytics for Excel PAX – the Excel add in, allowing users to interact with the TM1 engine from within their familiar spreadsheet interface, providing the ability to write back to TM1
Data integration with SAP BW, Oracle Hyperion
Flexible, scalable deployment to keep pace with even the largest of enterprise
Multi-Dimensional modelling capabilities to allow detailed plans to be stored at multiple cascading levels, delivering enormous flexibility with levels of automation and spreading techniques to keep budgets aligned
Driver based planning, rolling forecasts, KPI monitoring with built-in score-carding abilities, with metrics and sophisticated performance monitoring capabilities
Personal Sandbox environments to allow users to evaluate their own what if analysis
View our latest work with Planning Analytics:
Case Study
Sports Direct – Improving Planning and Performance
Sports Direct are the leading sports retailer for apparel, shoes and equipment. We were engaged to provide a top down, collaborative solution to help the buying team collaborate and fulfil customer demand, whilst simultaneously managing not over ordering and carrying too much stock. We implemented an IBM Planning Analytics solution in the Cloud, to allow remote teams of buyers to ensure that the correct levels of stock were ordered to meet the approved company budgets, across a very broad range of product classes, from football boots to homewares! As a result, the buying budgets are now aligned across the business, and the teams are working to a common goal. Stock levels are much improved, and trading performance has benefitted from less forced stock clearance, resulting in saving money for the company.
View all our work
IBM TM1 Training

Our trainers are skilled and experienced to deliver a high-quality learning experience. The IBM course content is clear, concise and supports successful learning journeys.

The list below shows our range of Analytics training and TM1 10.2 training courses that we offer.

We have selected the latest versions of TM1 Planning training courses below or see the full list of various Analytic courses here.

| | | | | |
| --- | --- | --- | --- | --- |
| Course | Course Code | Duration | Level | Description |
| IBM Planning Analytics: Design and Develop Models in Architect (v2.0) | P8361 | 5 days | Advanced | This course is designed to teach modelers how to build a complete model  using the Architect tool. Through a series of lectures and hands-on exercises, students will learn how to set up and verify dimensions, cubes, and views, manually enter data into these structures, and define the data that users can see. Students will also learn how to transfer data into the model, including the use of TurboIntegrator scripts to perform data transfer. In addition, the course outlines how to customise drill paths, convert currencies, model for different fiscal requirements, and deploy applications to the web. |
| IBM Planning Analytics: Design and Develop Models in Performance Modeler (v2.0) | P8352 | 5 days | Intermediate | Design and Develop Models in Performance Modeler (v2.0) will teach students how to build a model using the Performance Modeler tool. Through a series of lectures and hands-on exercises, students will learn how to create and customise dimensions and cubes, import and link data, and build and maintain applications. |

Licenses

Planning Analytics 2.0 is available either on cloud or on-premise, with a range of options depending on the size of the implementation and the number of users.

Contact us in the form below if you'd like guidance on finding the most appropriate options for your needs.

Licenses are controlled via roles, please see these listed below. If you need support to review your licensing requirements, please get in touch.

License role
Description
Administrator
Administrators have all the rights of a modeler, plus the following ability:

 Administrators can see all content in the workspace

Modeler
Modelers have the rights of an analyst plus the following abilities:

 They can create and share content and edit content that is shared with them
 Modelers can create, edit, and delete dimensions and hierarchies. They can add, delete, cut, paste, copy, move, and sort members and their attributes in a hierarchy
 Modelers can deploy new plans when they create them by using templates and tutorials
 Modelers can also manage their own projects in the subscription management page

Analyst
Analysts have the rights of a consumer, plus the following abilities:

 Analysts can create, edit, and share books and views
 Analysts can delete books and views if they have full control permission set for those books and views

Consumer

 Consumers can open books and views and other content that is shared with them
 Consumers cannot create their own books and views
"What If" Scenarios with IBM Planning Analytics
Trial & Demo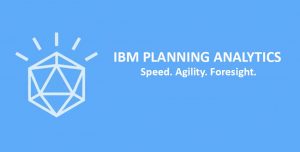 Want to experience the all new Planning Analytics 2.0 with our Accelerated Impact (AI) package* for FREE? Simply fill in this form!
We will assist you with getting the free trial.
Along with giving you guidance on how best to get started.
(* subject to availability, we can offer tailored advice to help you get the most out of your software trial).
Support for Older Versions

Below is a summary of earlier versions of Planning Analytics and Cognos TM1 tools. If you need support or upgrade advice for any of these products, please get in touch in the form below.

Date
Version
Comment
December 2016
IBM Planning Analytics 2.0
The current version of IBM Planning Analytics, IBM rebranded Cognos TM1
2014
IBM Cognos TM1 10.2.2
TM1 Architect and TM1 Perspectives now 64-bit

This version is out of support from 30th Sept 2019

2013
IBM Cognos TM1 10.2
TM1 Scorecarding, Improvement to Cognos Analytics for Excel CAFE
2012
IBM Cognos TM1 10.1
Performance Modeller, visual tools for modelling, Cognos Insight features
2009
IBM Cognos TM1 9.5
TM1 Contributor user experience, with improved workflow features, personal what-if scenarios, personal hierarchies
2008
IBM Cognos TM1 9.4
Featured integration to IBM Cognos 8 BI
If you would like to find out how this can help you to co-ordinate your budgeting, forecasting and performance management then please get in touch
Get in touch