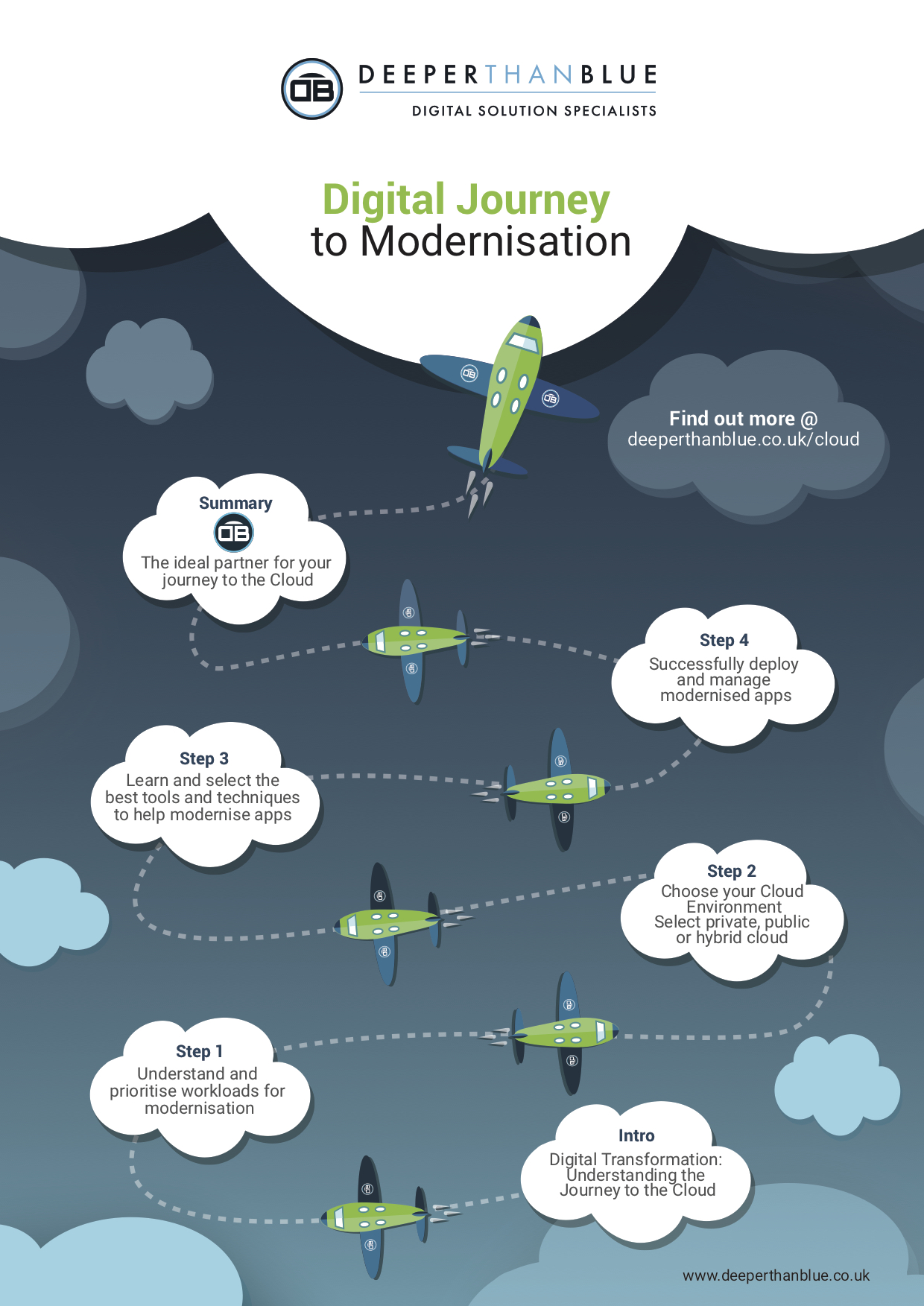 Journey to the Cloud, a Digital Transformation Story – DeeperThanBlue's Modernisation Series
Welcome to the DeeperThanBlue Digital Modernisation blog series. In this series we will be tackling questions we are sure you have heard of, or even asked yourself, but what do they mean to you and your organisation?
What is Digital Transformation? What is modernisation to the Cloud? Do I need to disrupt? Is it for me?
Why not listen to our Cloud Podcasts instead?
Is it a necessary journey?
If there's one constant your business can rely on these days, it's change. Your IT needs next year — or even next month — are unlikely to be the same as they are right now. Your business may be growing, and you may be moving into new territories. Or someone — you or a competitor — may be turning your sector on its head with innovative processes and products enabled by digital technologies.
In today's business climate, a modern IT infrastructure is the foundation for a successful organisation. It will let you:
Innovate, by allowing you to more quickly develop secure, scalable apps to support new products and services or transformed business processes.
Collaborate more effectively, both internally and with external partners, by providing secure web-based and mobile access to shared data and apps, from any place, at any time.
Cloud computing is regarded by DeeperThanBlue as the way of the future, but just how can it help? Here we take you through the four steps we have identified that will let you modernise and future-proof your IT with cloud infrastructure.
Step 1: Packing for success (pack light to begin with)
As with any journey deciding what to take with you at the outset is critical. Traditionally enterprises at the forefront of the digital transformation revolution simply employed a 'lift and shift' approach, choosing to migrate lighter workloads in their entirety to the cloud.
This has in many cases resulted in them not realising the true benefits of cloud migration either in terms of innovation or cost savings. As these workloads or applications have remained largely the same, whilst the heavier more complex workloads remain firmly on-premise. It is generally understood that enterprises in this state have managed to migrate 20% of workloads to the cloud with the remaining 80% still requiring modernisation.
It is from this cautionary tale we can now strategically plan a more conclusive journey to the cloud from the outset. By analysing all business workloads and initially prioritising those which would benefit from a modernisation approach; by breaking down applications into microservices and deploying to the cloud in smaller, more agile clusters, your business will quickly start to see the value of and realise the known benefits of Cloud computing.
Deciding which workloads to lead with on the journey will be different by enterprise, however at DeeperThanBlue we have the knowledge and services to help you evaluate your current environment to determine adoption readiness and provide an actionable roadmap for integrating cloud to your enterprise.
Ready to start your journey? Contact us on the form below to get started
Step 2: Not all routes are equal (avoid the traffic)
Now that we have decided what to pack on our initial journey, planning which route to take is the next step, as to extend the metaphor further, we want to avoid routes we know may be congested or which are unsuitable for the vehicle we are travelling in.
Deciding on the environment will always depend on what was targeted in step one in terms of the nature and make up of your first-mover applications. However, there are three options to choose from when deploying workloads to the cloud:
Private Cloud is cloud infrastructure operated solely for a single organisation, whether managed internally or by a third-party, and hosted either internally or externally. Often it is considered that a private cloud can offer greater levels of security as data can remain sat behind enterprise firewalls.
Public Cloud, is called a "public cloud" when the services are rendered over a network that is open for public use. Technically there may be little or no difference between public and private cloud architecture. However, security consideration may be substantially different for services, that are made available by a service provider for a public audience and when communication is supported over a non-trusted network.
Hybrid Cloud is a composition of two or more clouds (private or public) that remain distinct entities but are integrated together, offering the benefits of multiple deployment models.
As industry experts, DeeperThanBlue provides a full consultative model, having access to a full market range of Cloud Environments, suiting your specific business needs and requirements.
Step 3: Leaving the runway
Once the first-movers have been identified along with the chosen destination in the cloud, our Journey to the cloud really starts to move
Microservices, adopting a devops approach, testing often and releasing deployments fast allows a businesses team to learn quickly and iterate. We are proponents of following the principles of developing a minimum viable product. This can vary in shape and size for organisations especially when replacing or re-inventing an existing application. The key here is small iterations that quickly build the replacement.
Step 4: In Flight
Typically, your clients have a mix of scenarios. For a variety of reasons, such as age, longevity of a workload, or complex data interdependencies, some workloads never move to the cloud and remain in a traditional IT environment. However, many existing workloads are viable candidates for moving to the cloud and, of course, brand-new applications are most likely "born on the cloud" from the start and known as Cloud Native.
Summary: Not whether, but how (and who with) NOW!
The question then is no longer whether you should embark on a journey to the cloud to drive transformation for your business, but rather what to do and how you should do it.
Targeting the right applications to be first-movers and identifying the best migration or modernisation path for each application, requires an analysis of workloads, business needs, and technical complexities. It's not easy. But when done right, it can deliver all of the benefits of maximised efficiency, increased agility and greater freedom to innovate that you look for the cloud to deliver for your business.
Become one of the companies that's satisfied with its move to the Cloud. Start with a rationalisation of your legacy applications portfolio to identify the right first-movers for you. Realise value quickly and understand how an overall cloud transformation approach supports your longer-term business and technology vision. DeeperThanBlue can help!
Ready to start your journey? Contact us on the form below to get started
Related Articles
These might interest you
If you are interested in excelling in your market, becoming a digital disruptor or simply finding out more please get in touch.