Linnworks is an eCommerce platform that helps online retailers automate key processes, reduce costs and grow their business.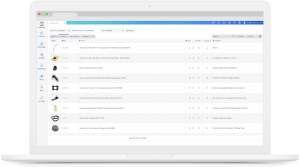 What is Linnworks? 
Are you struggling to manage the separate parts of your business? Do they feel disparate and without a clear connection? How could you benefit from essential automation across order management, inventory management and shipping?
Linnworks connects and automates every part of your selling process. This means you can spend less time on order processing, labels, picking, packing and spreadsheets, and more time pushing your business forward. It's already used by over 4000 online sellers.
Linnworks core products include:
Multi-channel eCommerce software
Order Management system
Inventory Management software
Stock Control software
Shipping Management software
Custom Reporting software
Linnworks multi-channel eCommerce software
Enables you to take ownership of your business across the likes of Amazon, eBay, BigCommerce and more. It promises the following:
Automated multi-channel retailing: reduce human error, save time, cut costs and cater to the needs of your users.
Stock-adjustment every time you make a sale to reduce any chaotic selling and over-selling.
Sell on multiple channels in less time.
Consolidate all your orders into one centralised multi-channel eCommerce system for greater inventory management and insight into performance.
Increased choice of integrations: connect all your selling channels, courier services and software with access to an open API and take advantage of the many available integrations.
Order Management system
With Linnworks you can process and fulfil your orders in less time, with greater oversight. The Linnworks order management systems has the following key benefits:
Process your orders in less time and speed up fulfilment.
Complete oversight of every single order through a centralised order management system.
Benefit from reliable order management software: prioritise orders by destination, order date, delivery method, courier, inventory locations etc.
Scale your business simply and cost-effectively with a system that grows alongside your company.
Inventory Management software
Linnworks Inventory Management software enables you to connect your sales channels and synchronise your stock for increased efficiency, greater cost-savings and more freedom to focus on the things that really matter for your business.
No longer will you be dealing with the manual tasks associated with online selling. That means no spreadsheets, no overselling and no disappointed customers attempting to buy products that have already sold out.
Key benefits include:
Full control over centralised inventory management.
Less time spent managing your inventory.
Eliminate the risk of overselling.
Maintain accurate inventory levels.
Make data-driven business decisions.
Increase efficiency through improved inventory control.
Shipping Management software
Now you can cut your workload, increase efficiencies, deliver every order on time and maintain control over your business through essential automation when it comes to managing your shipping. You can benefit from:
Securing the cheapest shipping rates by comparing services from a range of international and domestic suppliers.
Integrating with all your shipping couriers.
Implementing bespoke shipping rules to save time.
Reducing your workload with automated shipping manifests.
Monitoring every shipment with hassle-free tracking.
Custom Reporting Software
By analysing historical sales data to identify your top performing channels, products and markets, you can make better business decisions and increase profitability. And with better decision making comes an enhanced user experience and happy customers.
Linnworks Custom Reporting software enables you to:
Anticipate stock demand.
Analyse performance across all channels, markets and products.
Have vital business and performance information at your fingertips.
Make data-driven decisions based on essential insight.
If you're keen to learn more about how automation can enhance and improve all areas of your eCommerce business, get in touch with us at DeeperThanBlue today.
Get in touch