TRANSFORMING IDEAS INTO REALITY
Studio Retail
Growth, Success and Awards
One of the largest online value retailers in the UK. Whilst historically catalogue based, over 68% of customers now shop on the web, mobile and through the call centre channels for their broad range of fashion, home and leisure items, toys and gifts. Serving 1.8m customers annually and, growing at near double-digit, driving Findel Group performance.
Developed and launched with DeeperThanBlue, using IBM WebSphere Commerce and IBM Integration technologies, in 2016 the team continue to extend the proposition from a backlog and planned development pipeline feeding monthly sprints and releases.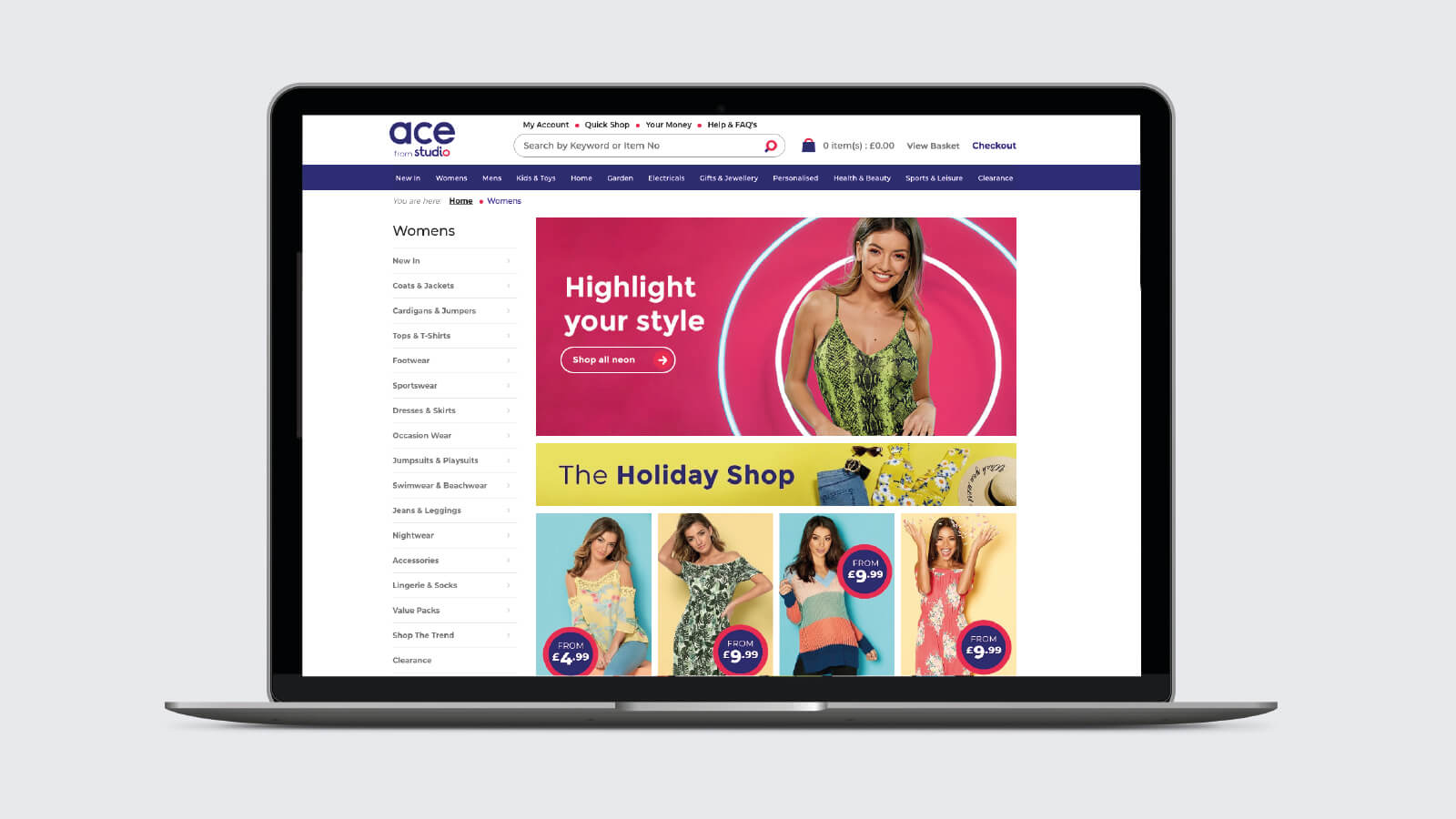 The Studio Retail Story
Studio Retail, formerly part of Express Gifts too,  is part of Findel plc, a multi-channel retailer operating across the business-to-consumer and business-to-business market places. It is a market leader in the home shopping and educational supplies sectors.
Studio's range of products is diverse covering leisurewear, electrical, household, textile, bedding, furniture, nursery products, gifts and greeting cards. Many of these can be personalised in the division's in-house facilities which are unmatched in UK retail.
All large products are handled at a 500,000 sq ft distribution centre in Manchester, whilst an automated collation warehouse at Accrington is capable of handling over half a million items per day.
The majority of customers open a flexible account that allows them to choose whether to pay for their purchases immediately or spread the cost over a number of months with interest being charged on outstanding balances each month.
Growth and Online
Studio's active customer base has grown by a third over the last two years to 1.8 million. Revenue growth has been close to double digit with 68% of orders being placed online in FY2017 and 84% of all new customer placing their order online. Christmas 2017 was a record from a sales performance.
What was the objective?
The key objective was to replatform to a market leading ecommerce solution that would be scalable to meet the business's aggressive growth plans and allow Marketing, without the support of IT involvement, to trade and manage the site, as well as update content and the product range on a regular and often daily basis.
The business needed to be able to react quickly to market conditions and change the offers and promotions as well as introduce new products.
The solution needed to be able to cater for both cash with order and credit business models and support personalised pricing and offers within customer segments. A single view of a customer was required across all business channels (web, mobile and call centre).
The online team wanted to be able to capitalise on SEO rankings which the previous platform was not optimised for and to be able to take advantage of a mobile first experience for customers.
The extensive product range also included personalisation of products which is a key differentiator with the Studio and Ace offerings.
What was the challenge?
Prior to IBM WebSphere Commerce , Studio were running on a largely-proprietary e-commerce java platform with a bespoke catalogue front end that had been developed for over a decade.
The old website had a lot of issues with the look and feel as well as usability issues that needed to be addressed.
The site needed to be integrated into core business systems to provide a single view of the customer from the My Account function and improve stock visibility to increase order conversion rates and reduce the number of customer service enquiries.
The platform which supports call centres had to be rolled out across overseas locations.

What was the outcome?
The digital transformation that Studio and Ace has undergone has helped drive Findel Group performance, increasing the active customers in the last two years by a third and driving double digit growth.
The marketing and merchandising team can now update content and create new promotions and offers on a daily basis including timed offers/sales.
The sites now have daily product and pricing changes.
The business has migrated from a largely paper catalogue led business traditionally with written and phone based orders to an online mobile first presence where 68% of orders are now placed online.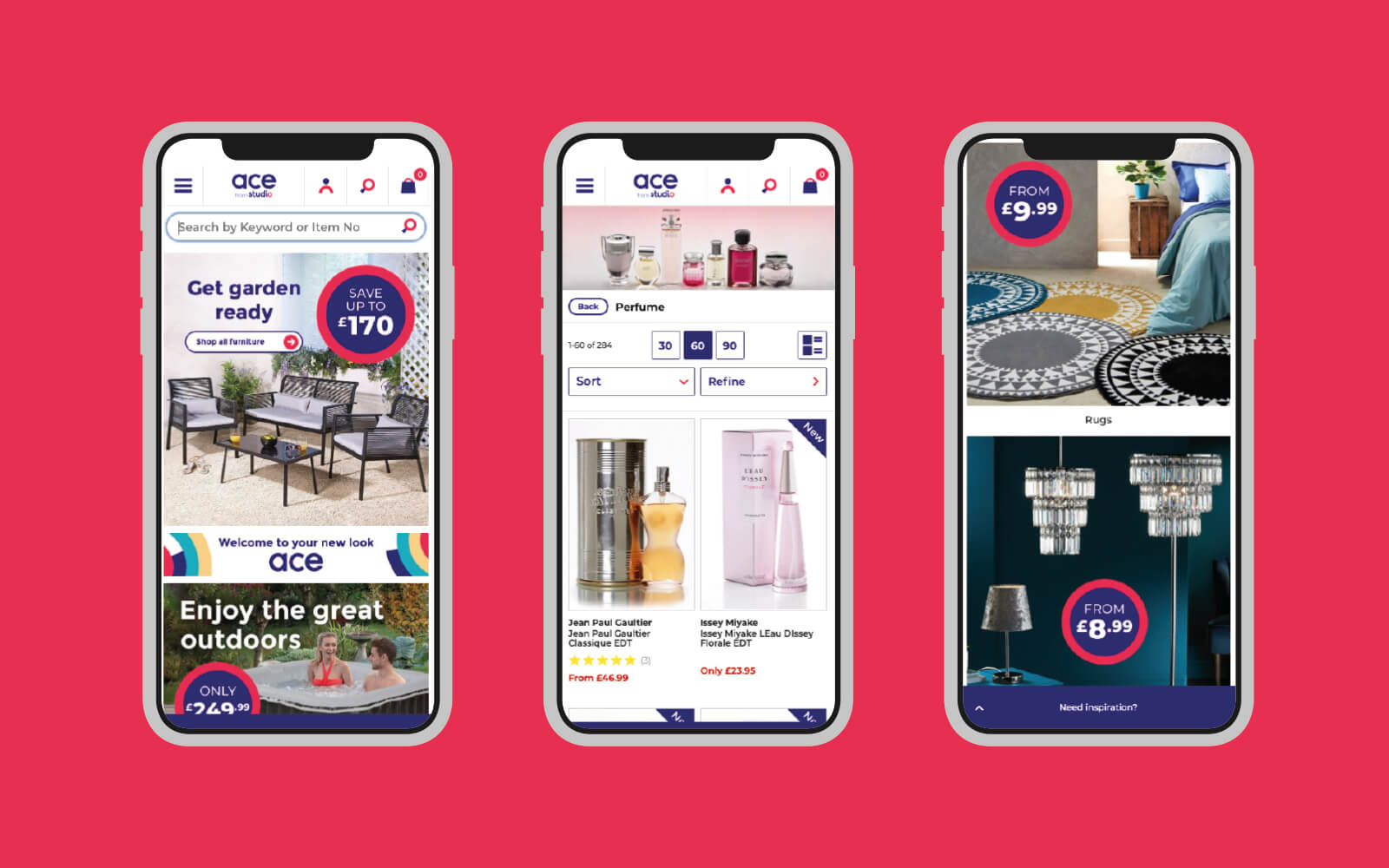 Recent Innovations
No eCommerce proposition can afford to stand still in today's fast-moving market. The Studio and DeeperThanBlue team have continued to develop the proposition further with the implementation of a cognitive AI – Artificial Intelligence search capability from Apptus which improves merchandising and product relevance to customers.
Reducing fraud is paramount to all retailers and the amount of time expended resolving incidents. The platform now includes an Intelligent Fraud Detection capability.
There has also been a focus on improving the management of customer debt and being able to create new credit offerings.