Upping the speed of sales
Car and Van Mats – Woo Commerce to BigCommerce with DeeperThanBlue
Moving beyond a single marketplace channel
Car and Van Mats had aspirations to grow their business beyond an eBay store. Despite offering a wide range of mats for Cars, Vans, Motorhomes, Caravans, and Trucks in different qualities they found that customers on eBay were predominantly value shoppers.  Whilst marketplaces do offer a guarantee of potential customers looking for your products Car and Van Mats felt they could increase customer choice with their own eCommerce store.
Metrics reflect UK online store sales from July 2019 - March 2020
increase in average order value
increase in conversation rate
increase in orders
Prior to BigCommerce
They set up a site on WordPress with Woo Commerce but the site proved to be slow, cumbersome and most customers abandoned at the checkout getting frustrated with the site's speed.
Whilst WordPress is good for small content sites it has its limitations for high volume sites with growing catalogues.
Why DeeperThanBlue?
As a leading Northern based digital agency,  Car and Van Mats selected DeeperThanBlue for our heritage in scaling high volume growth sites with large catalogues.
DeeperThanBlue helped the Car and Van Mats team evaluate some of the leading mid-market eCommerce solutions including Adobe Magento, Shopify and BigCommerce. Top of mind was site speed and performance, the ability to manage a large catalogue of products, offer a range of shipping services, support different payment options, integrate into marketplaces and provide best in class SEO capabilities.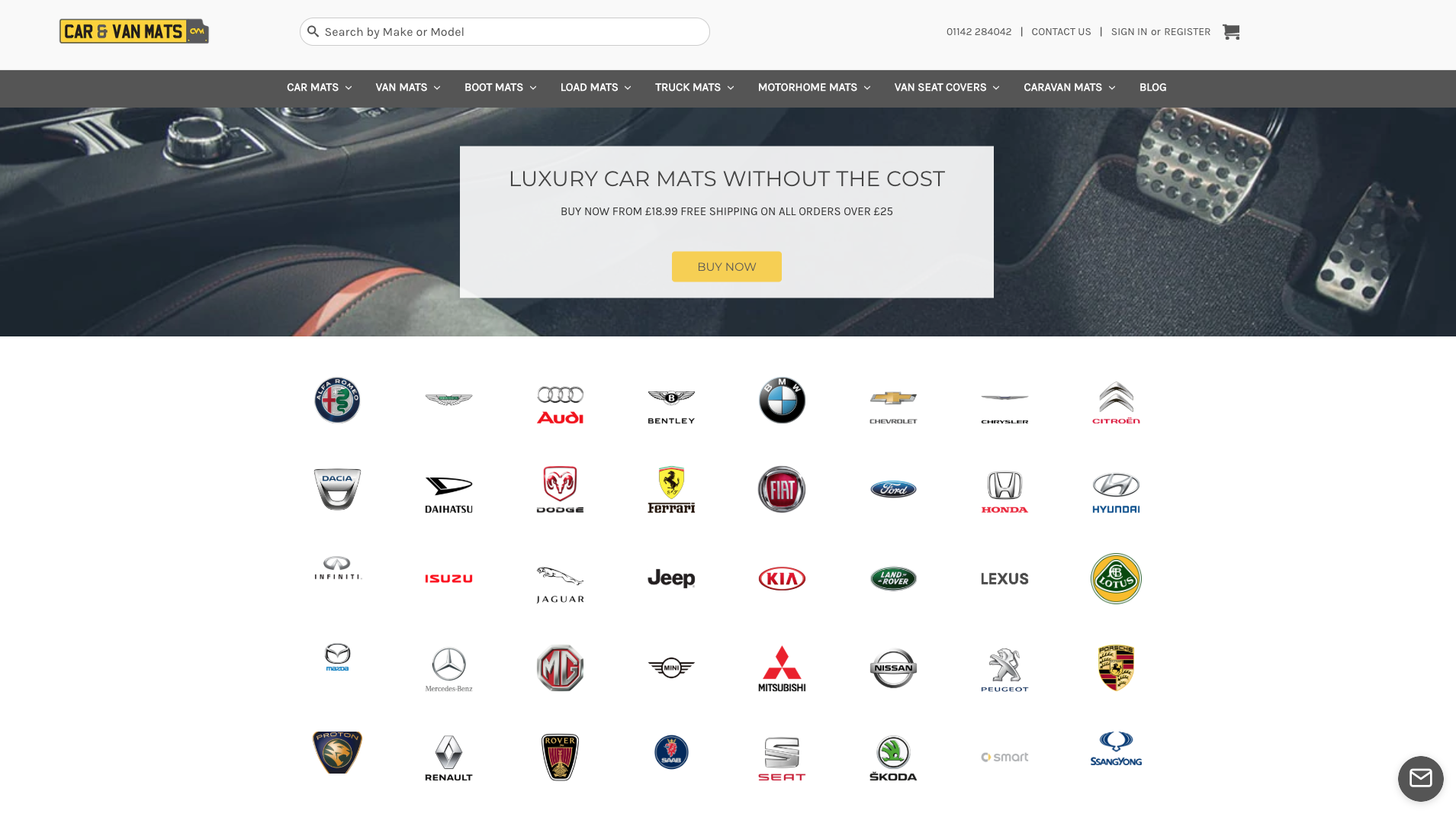 Project Delivery
Within 12 weeks the site was migrated from WordPress and Woo Commerce on to the BigCommerce SaaS platform.
With the store now able to reach a vastly wider audience, they also wanted to simplify the order management and fulfilment process. DeeperThanBlue recommended the use of LinnWorks which would plug into both BigCommerce and their fulfilment partner ParcelHub.
The Outcome
Car and Van Mats hit the ground running and in the first week of go live they had already seen an increase of orders, more than 12 times what was going through all their previous sales channels combined. Now passing the 3,000 order a month mark they are continuing to grow. Despite this growth the LinnWorks order management solution is helping them scale without a need to increase head count.
Through DeeperThanBlue online marketing services for Organic SEO (Search Engine Optimisation) and Google Ads (Pay Per Click marketing) the site is ranking well, acquiring new customers who are now purchasing luxury and premium mats which increases the business revenue and product margins.
The sheer speed of the BigCommerce site and how quickly and easily customers can navigate to the products they wish to purchase, has resulted in industry beating conversion rates.
DeeperThanBlue have made our move to BigCommerce seamless. They are always willing to go the extra mile and we've seen a massive influx of sales since the move with significantly improved conversion rates. We're proud that we can offer such a great customer experience that we feel this is due to the exceptional user interface including a clear design that allows customers to find the right products quickly and easily.
As our order volumes have increased, they quickly recommended and implemented Linnworks to ensure our order management and fulfilment processes were slick and optimised for carrier management whilst not increasing headcount and managing costs.
As a business, we now feel more secure and DeeperThanBlue has demonstrated exactly why they are a great company to work with.
Jane Green, Founder & Managing Director at Car and Van Mats