Scale AI For All Your Data, Anywhere
Data is the core of every business, driving applications, predictive insights, and enhanced experiences. Yet, realizing the full potential of data remains a challenge due to storage and access limitations for analytics and AI.
AI starts with your data and how it is stored, managed, and governed in order to be trusted and scalable. Watsonx.data, built on a data lakehouse architecture, can help you significantly reduce the cost of your data warehouse by up to 50% while simplifying access to governed data for AI.
IBM watsonx.data is an open, hybrid, and governed data store optimized for all data, analytics, and AI workloads.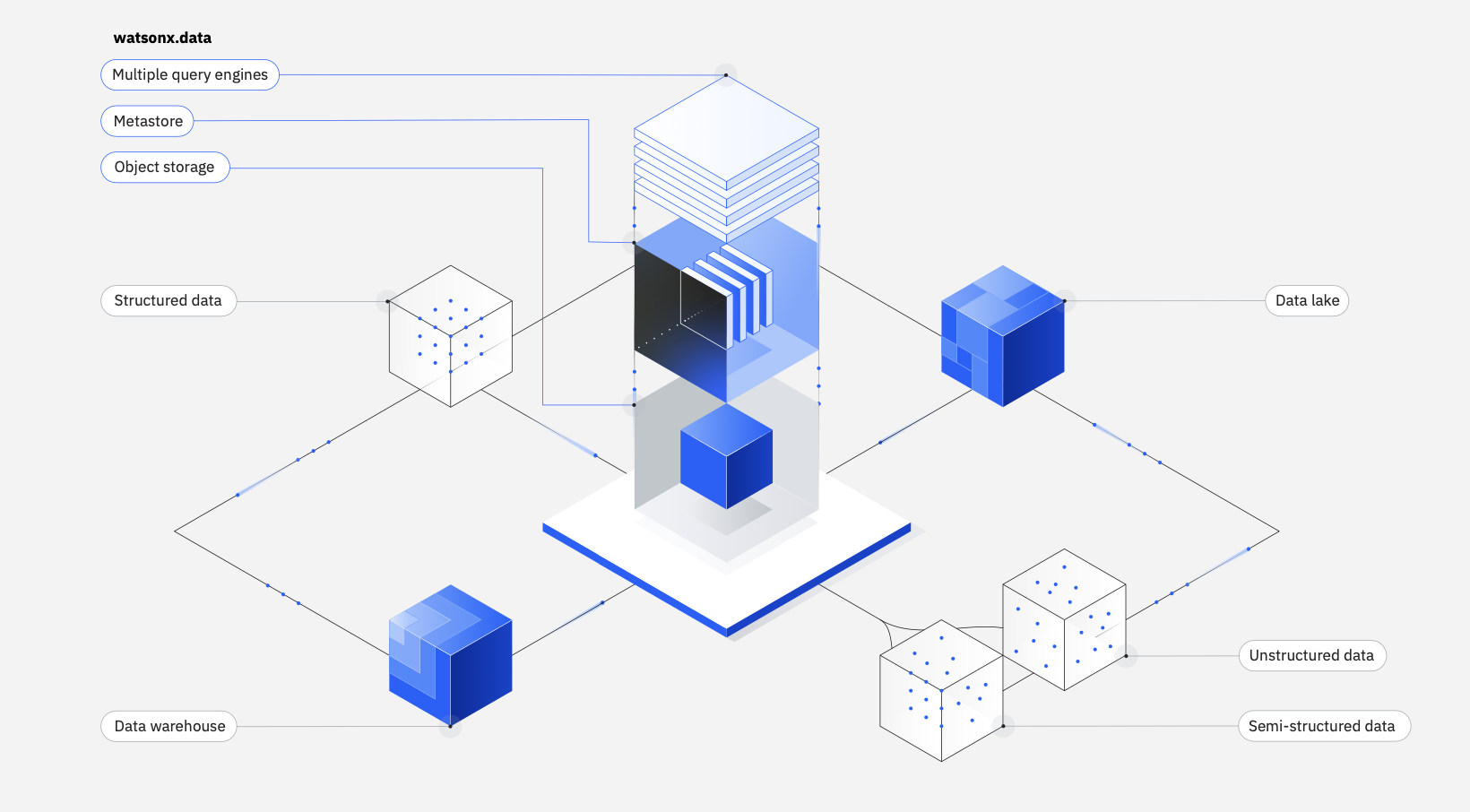 Why your business needs Watsonx.data
IBM Watsonx.data represents the future of data lakehouses as the industry's sole open, hybrid, and governed data repository, allowing you to harness multiple query engines for analytics and AI tasks across diverse locations.
Access
Unlock your data across hybrid-cloud environments, ensuring comprehensive workload coverage. Enjoy effortless deployment of a fully managed service on any cloud or on-premises setup.
Access data from any source, wherever it's located, via a single entry point and merge it using open data formats. Seamlessly integrate with your current setup through open source and standards, ensuring compatibility with IBM and third-party services.
Accelerate Time
Speed up the path to reliable insights. Begin quickly with embedded governance and automation, and enhance enterprise compliance and security through unified governance throughout your ecosystem. A user-friendly interface and an intuitive console empower your teams to handle data ingestion, access, transformation, and workload execution efficiently.
Reduce
Reduce the cost of your data warehouse by up to 50% through workload optimisation across multiple query engines and storage tiers. Optimise costly warehouse workloads with fit-for-purpose engines that scale up and scale down automatically. Reduce costs by eliminating duplication of data when you use low-cost object storage; extract more value from the data in ineffective data lakes.
0
Now it's possible to achieve faster, trusted insights while you cut data warehouse costs in half
0
The amount of stored data is expected to grow by 2025
0
of organisations are inhibited by data silos
IBM watsonx.data is the solution
Foundational models are unlocking new opportunities for businesses to automate processes and unlock new insights. Leaders are re-thinking ineffective and monolithic data architectures in order to actually scale responsible, transparent and explainable AI.
IBM watsonx.data is the solution that can help data-driven organizations scale governed analytics and AI workloads, leveraging all of your data everywhere.
Enhance your business capabilities with DeeperThanBlue
When storing and making use of data for analytics and AI, most enterprises have multiple data warehouses and data lakes, on-prem and in the cloud. Learn how watsonx.data allows you to reduce time to trusted insights with built-in governance, access controls, and security.
Want to see how you can get started with a lakehouse architecture today? Get in touch with us today and see how we can support your data & AI initiatives.
Check out our other IBM offerings
Get in touch today to discuss your Watsonx.data requirements today
Get in touch